[rev_slider slidertitle="Slider 2″ alias="slider-2″][rev_slider_vc alias="home-2″]
CORPORATE TRANSFORMATIONAL YOGA
Corporate transformational Yoga (CTY) classes by Grandmaster Arjun and his team of highly experienced teachers aims to improve workplace morale, increase productivity and bring everyone together to do something fun as a group. CTY class is a welcome break to a busy work day or a relaxing way to de-stress at the end of the day. CTY at work is a low-cost and innovative solution for companies wanting to reduce health care expenses, relieve workplace stress and promote employee well-being. We guarantee that each and every yoga class with one of our certified teachers will leave you and your co-workers refreshed, re-energized and ready to deal with workplace stress.
What We Offer
Our Services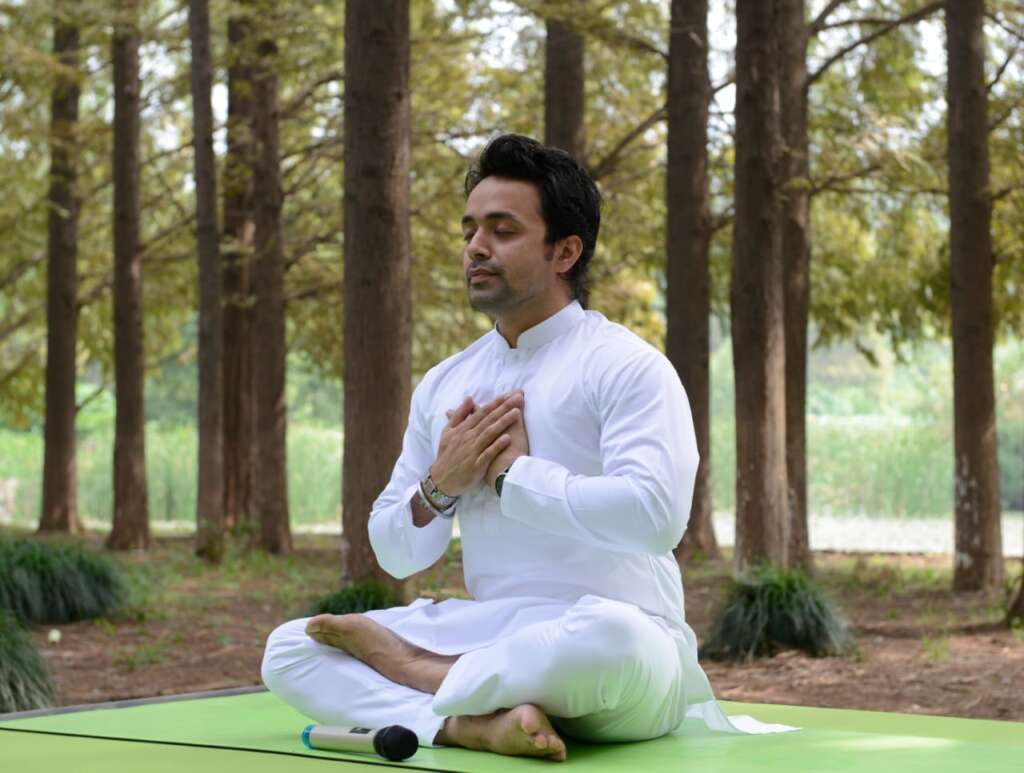 Corporate Yoga
Why Us?
Our team of Corporate Transformational Yoga is conducting corporate yoga and lifestyle sessions and workshops from 2015. The modules are designed by our founder " Swami Vidyanand ji" and our CEO "Arjun Goswami". With the expertise in this field and positive feedbacks, we have conducted corporate yoga sessions in most of the Fortune 500 companies.
Corporate Transformational Yoga
How Does It Work?
We offer Transformational Corporate Yoga in workplaces all across India. Companies can choose the time that fits their employees the best: it can be early morning yoga sessions, Lunchtime yoga sessions or even after work yoga classes.

These corporate yoga sessions are 45-60 minutes long and can be customized as per the client need. Companies can choose to either book a single session or multiple (weekly/ monthly) and make it a regular event in the company. Our set up is very easy. You just require a quiet, large, open space along with office chairs to accomodate the employees, preferably a hall but an open cafeteria, office bays, hallways will also work just fine.
CORPORATE YOGA
Services & Pricing
We provide variety of services to all group sizes. You may contact us for any queries or questions regarding the pricing.
| | |
| --- | --- |
| Group Classes | Depends on group size |
| Chair Yoga | Depends on group size |
| Workshop on Healthy Corporate Lifestyle | Depends on group size |
testimonials
What Clients Think About Us?
Transformational Yoga has clarified me with yoga and its philosophy. I am blessed to be a part of Srima. Thank You.
This is my weekly sanctuary from the everyday stress. Thank you so much for being there for us each time we need it. Love you guys!
My second home. Can't live without it! An atmosphere of piece and serenity. Wonderful workout for the body. Thanks for training us!
CORPORATE TRANSFORMATIONAL YOGA
Swami Vidyanand
Swami Vidyanand is a renowned yoga master from India. He is the founder and spiritual head of SriMa International School of Transformational Yoga® and the Founder and President of Yoga Alliance International® (YAI), World Yoga Federation® and Meditation Alliance International® (MAI) spread over all continents.
Arjun Goswami
Arjun Goswami is a renowned yoga grandmaster and CEO of yoga alliance and Srima school of transformational Yoga India. He has been practicing yoga & meditation since his childhood and become a certified Grandmaster under the guidance of World renowned Master Sri Swami Vidyanand Ji.
Our HQ : near Auroville/Pondicherry: Sri Meerambigai Garden, C.M. Chavady no.95, Near Le Ciel Homestay, Near Auroville Main Road, Kottakupam,Villupuram District 605104, Tamil Nadu, India.
New Delhi Branch: 117 A, 3rd Floor, Mandi Road, New Manglapuri, Near Chattarpur Metro Station, New Delhi – 110030, India.
Gurgaon Branch: F3/2, Arjun Marg, DLF Phase 1, Gurgaon ​